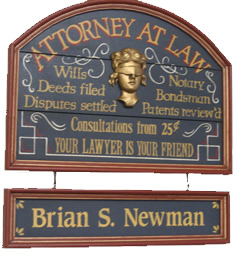 Serving Civil, Mortgage, and Title Insurance Needs
in Stafford Springs, and North Central Connecticut
Brian S. Newman, Attorney and Counselor at Law, P.C., is a general practice that includes real estate conveyancing, mortgage closings, zoning and land use, commercial collections, business law, family and juvenile law, criminal defense and civil litigation.
The firm is comprised of Attorney Brian Newman, Ms. Jennifer Egan, legal secretary, and Ms. Judith Weber, office manager.
The firm moved to Stafford, Connecticut, Attorney Newman's hometown, in May, 1997 after being located in Manchester, Connecticut for six years in the belief that the Stafford area was under-served.
The office is fully computerized, and utilizes a number of legal software programs intended to increase the productivity and responsiveness of the firm to meet its clients' needs. Located in beautiful West Stafford, Connecticut in a modern nine hundred square foot office, the firm is dedicated to client service and satisfaction emphasizing communication between client and attorney.
Directly serving the towns of: Enfield • Somers • Stafford Springs • Union • Ellington • Vernon

Serving Hartford and Tolland Counties in Connecticut, our law firm offers mortgage closing services, is a title insurance agent, and represents clients in criminal and civil cases. Brian S. Newman also offers real estate; zoning, land use, and municipal law; personal injury; insurance defense; family and juvenile law; wills, trusts, and estates; collections and creditor's rights; criminal defense; commercial collections and general civil litigation.

Website design and hosting by RTCubed Consulting, LLC