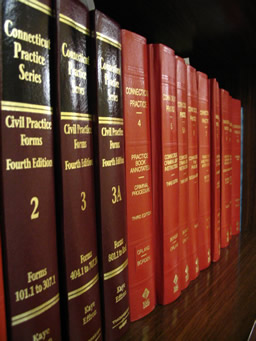 Legal Experience:
November, 1991 - Present
Solo general practice including real estate; zoning, land use, and municipal law; personal injury; insurance defense; family and juvenile law; wills, trusts, and estates; collections and creditor's rights; criminal defense; commercial collections and general civil litigation. Designated by the United States Department of Housing and Urban Development as a Federal Foreclosure Commissioner for single and multi-family foreclosures.
June, 1991 - November, 1991
Associate at Boland & Chmielecki in Manchester, Connecticut, a general practice including land use and zoning, real estate, collections, family and juvenile law, and criminal defense.
February, 1990 - November, 1991
Assistant to the Town Attorney (Law Clerk) in the Town of Manchester, Connecticut, Town Attorney's Office. Civil litigation with emphasis on personal injury defense, contract claims, and planning and zoning issues. Research and drafting legal memoranda to Town Attorney for use of town's legislative body and all other town agencies.
October, 1986 - January, 1990
Law Clerk under Devlin, Peters, & Davis, located in Somers, CT (formerly known as Tatoian, Devlin, Peters, & Davis). Drafted land use appeals and briefs. Assisted in civil litigation. Research and drafting pleadings, motions and memoranda of law. Assisted senior partner at trials. Title searching.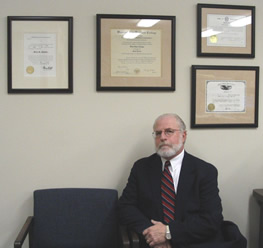 Education:
Western New England College School of Law, Springfield, MA
Juris Doctor, February, 1991
Rank: Top 19%
Honors: Lawyering Process - Research and Writing
Admitted to Massachusetts Bar: August, 2005
Admitted to United States District Court for the District of Connecticut: March, 1992
Admitted to Connecticut Bar: June, 1991
Kent State University, Kent, Ohio
Master of Public Administration: August, 1975
State University of New York at Stony Brook, Stony Brook, NY
Bachelor of Arts, Political Science: May, 1973
Additional Experience:
Over twelve years experience in housing and community development, land use planning, and related municipal law issues.
Community Involvement:
1981 - 1987 Hartford Board Member at the Housing Education Resource Center
1984 - 1986 Connecticut Community Development Association Board Member
1985 Town of Stafford Planning and Zoning Commision Alternate Member
1978 - 1979 Town of Sandisfield, Massachusetts Planning Board Member and Chairperson
1991 - 1992 Enfield People for People, Inc. Legal Counsel (Pro Bono) to non-profit housing cooperative
1991 - Present Connecticut Consortium for High School Legal Education, Moot Court Trial Judge